Synergy2 Complete - The All-On-4 Solution
Developed using the same process that made Synergy2 such a success, Synergy2 Complete is targeted to patients currently using dentures, have no teeth or only a few "hopeless" teeth. Using traditional techniques, this kind of treatment can take up to 8 months. With Synergy2 Complete, you see just one dentist and you have a beautiful smile in less than half the time.
No Adhesives
No Sore Spots
You Can Feel Your Palate
Never Comes Out - Stays in Permanently
Healthy and Natural
Synergy2 Complete is Dr. Jackson's comprehensive, minimally invasive implant approach for oral reconstruction of patients with very few or no teeth. The process replaces removable complete dentures with a Zirconium/Ceramic bridge that never comes out. Sore spots, adhesives or embarrassing situations are eliminated from patients' lives. Patients enjoy a lifestyle reminiscent of when they had healthy natural teeth.
Dr. Brian J. Jackson, is the area's highest credentialed dentist and the only Board Certified implantologist between Syracuse and Albany, NY.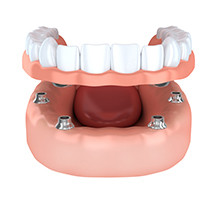 Synergy2 Complete - Permanent Bridge Solution